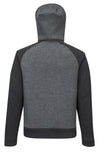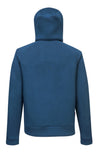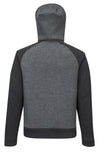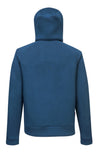 Portwest DX4 Zipped Hoodie
Product Code M0007
Product information
Regular price €53.95
Portwest DX4 Zipped Hoodie
The DX4 Zipped Hoodie is an innovative and technical with a two-faced fabric that provides lightweight warmth and unrestricted movement. Two zipped chest and side entry pockets offer plenty of secure storage space. The full zip on the front has a rubber puller for easy grip and the adjustable hood provides a close fit. A contemporary option for the modern worker, engineered with an active fit and a moisture wicking fabric helping to keep the body cool and dry. 
Features: 
Dynamic inner contrasting fabric.
Internal pockets for safe storage.
Grown on hood is stylish and practical.
6 pockets for ample storage. Side zip pockets.
Ergonomically shaped hood for a perfect fit.
Free notepad included with this DX4 Garment.
Chin guard for added comfort and stability.
Easy grip pullers attached to all zips.
Contrast colouring for added style.
Contemporary design with an ergonomic cut.
Contrast premium zips for added style.
[{"id":40646267371660,"title":"Grey \/ S","option1":"Grey","option2":"S","option3":null,"sku":"10001080","requires_shipping":true,"taxable":true,"featured_image":{"id":30428423291020,"product_id":7042105147532,"position":1,"created_at":"2022-07-18T09:13:58+01:00","updated_at":"2022-07-18T09:13:58+01:00","alt":null,"width":2151,"height":2865,"src":"\/\/www.farmandhomestore.ie\/cdn\/shop\/products\/DX472_image_2_grey.jpg?v=1658132038","variant_ids":[40646267371660,40646267568268,40646267666572,40646267797644,40646267928716]},"available":true,"name":"Portwest DX4 Zipped Hoodie - Grey \/ S","public_title":"Grey \/ S","options":["Grey","S"],"price":5395,"weight":760,"compare_at_price":null,"inventory_management":"shopify","barcode":null,"featured_media":{"alt":null,"id":22762202136716,"position":1,"preview_image":{"aspect_ratio":0.751,"height":2865,"width":2151,"src":"\/\/www.farmandhomestore.ie\/cdn\/shop\/products\/DX472_image_2_grey.jpg?v=1658132038"}},"requires_selling_plan":false,"selling_plan_allocations":[],"quantity_rule":{"min":1,"max":null,"increment":1}},{"id":40646267469964,"title":"Blue \/ S","option1":"Blue","option2":"S","option3":null,"sku":"10001084","requires_shipping":true,"taxable":true,"featured_image":{"id":30428423749772,"product_id":7042105147532,"position":3,"created_at":"2022-07-18T09:14:15+01:00","updated_at":"2022-07-18T09:14:15+01:00","alt":null,"width":2227,"height":3025,"src":"\/\/www.farmandhomestore.ie\/cdn\/shop\/products\/DX4_blue_image_1__2.jpg?v=1658132055","variant_ids":[40646267469964,40646267601036,40646267732108,40646267863180,40646267994252]},"available":true,"name":"Portwest DX4 Zipped Hoodie - Blue \/ S","public_title":"Blue \/ S","options":["Blue","S"],"price":5395,"weight":760,"compare_at_price":null,"inventory_management":"shopify","barcode":null,"featured_media":{"alt":null,"id":22762202595468,"position":3,"preview_image":{"aspect_ratio":0.736,"height":3025,"width":2227,"src":"\/\/www.farmandhomestore.ie\/cdn\/shop\/products\/DX4_blue_image_1__2.jpg?v=1658132055"}},"requires_selling_plan":false,"selling_plan_allocations":[],"quantity_rule":{"min":1,"max":null,"increment":1}},{"id":40646267568268,"title":"Grey \/ M","option1":"Grey","option2":"M","option3":null,"sku":"10001076","requires_shipping":true,"taxable":true,"featured_image":{"id":30428423291020,"product_id":7042105147532,"position":1,"created_at":"2022-07-18T09:13:58+01:00","updated_at":"2022-07-18T09:13:58+01:00","alt":null,"width":2151,"height":2865,"src":"\/\/www.farmandhomestore.ie\/cdn\/shop\/products\/DX472_image_2_grey.jpg?v=1658132038","variant_ids":[40646267371660,40646267568268,40646267666572,40646267797644,40646267928716]},"available":false,"name":"Portwest DX4 Zipped Hoodie - Grey \/ M","public_title":"Grey \/ M","options":["Grey","M"],"price":5395,"weight":760,"compare_at_price":null,"inventory_management":"shopify","barcode":null,"featured_media":{"alt":null,"id":22762202136716,"position":1,"preview_image":{"aspect_ratio":0.751,"height":2865,"width":2151,"src":"\/\/www.farmandhomestore.ie\/cdn\/shop\/products\/DX472_image_2_grey.jpg?v=1658132038"}},"requires_selling_plan":false,"selling_plan_allocations":[],"quantity_rule":{"min":1,"max":null,"increment":1}},{"id":40646267601036,"title":"Blue \/ M","option1":"Blue","option2":"M","option3":null,"sku":"10001085","requires_shipping":true,"taxable":true,"featured_image":{"id":30428423749772,"product_id":7042105147532,"position":3,"created_at":"2022-07-18T09:14:15+01:00","updated_at":"2022-07-18T09:14:15+01:00","alt":null,"width":2227,"height":3025,"src":"\/\/www.farmandhomestore.ie\/cdn\/shop\/products\/DX4_blue_image_1__2.jpg?v=1658132055","variant_ids":[40646267469964,40646267601036,40646267732108,40646267863180,40646267994252]},"available":true,"name":"Portwest DX4 Zipped Hoodie - Blue \/ M","public_title":"Blue \/ M","options":["Blue","M"],"price":5395,"weight":760,"compare_at_price":null,"inventory_management":"shopify","barcode":null,"featured_media":{"alt":null,"id":22762202595468,"position":3,"preview_image":{"aspect_ratio":0.736,"height":3025,"width":2227,"src":"\/\/www.farmandhomestore.ie\/cdn\/shop\/products\/DX4_blue_image_1__2.jpg?v=1658132055"}},"requires_selling_plan":false,"selling_plan_allocations":[],"quantity_rule":{"min":1,"max":null,"increment":1}},{"id":40646267666572,"title":"Grey \/ L","option1":"Grey","option2":"L","option3":null,"sku":"10001077","requires_shipping":true,"taxable":true,"featured_image":{"id":30428423291020,"product_id":7042105147532,"position":1,"created_at":"2022-07-18T09:13:58+01:00","updated_at":"2022-07-18T09:13:58+01:00","alt":null,"width":2151,"height":2865,"src":"\/\/www.farmandhomestore.ie\/cdn\/shop\/products\/DX472_image_2_grey.jpg?v=1658132038","variant_ids":[40646267371660,40646267568268,40646267666572,40646267797644,40646267928716]},"available":true,"name":"Portwest DX4 Zipped Hoodie - Grey \/ L","public_title":"Grey \/ L","options":["Grey","L"],"price":5395,"weight":760,"compare_at_price":null,"inventory_management":"shopify","barcode":null,"featured_media":{"alt":null,"id":22762202136716,"position":1,"preview_image":{"aspect_ratio":0.751,"height":2865,"width":2151,"src":"\/\/www.farmandhomestore.ie\/cdn\/shop\/products\/DX472_image_2_grey.jpg?v=1658132038"}},"requires_selling_plan":false,"selling_plan_allocations":[],"quantity_rule":{"min":1,"max":null,"increment":1}},{"id":40646267732108,"title":"Blue \/ L","option1":"Blue","option2":"L","option3":null,"sku":"10001083","requires_shipping":true,"taxable":true,"featured_image":{"id":30428423749772,"product_id":7042105147532,"position":3,"created_at":"2022-07-18T09:14:15+01:00","updated_at":"2022-07-18T09:14:15+01:00","alt":null,"width":2227,"height":3025,"src":"\/\/www.farmandhomestore.ie\/cdn\/shop\/products\/DX4_blue_image_1__2.jpg?v=1658132055","variant_ids":[40646267469964,40646267601036,40646267732108,40646267863180,40646267994252]},"available":true,"name":"Portwest DX4 Zipped Hoodie - Blue \/ L","public_title":"Blue \/ L","options":["Blue","L"],"price":5395,"weight":760,"compare_at_price":null,"inventory_management":"shopify","barcode":null,"featured_media":{"alt":null,"id":22762202595468,"position":3,"preview_image":{"aspect_ratio":0.736,"height":3025,"width":2227,"src":"\/\/www.farmandhomestore.ie\/cdn\/shop\/products\/DX4_blue_image_1__2.jpg?v=1658132055"}},"requires_selling_plan":false,"selling_plan_allocations":[],"quantity_rule":{"min":1,"max":null,"increment":1}},{"id":40646267797644,"title":"Grey \/ XL","option1":"Grey","option2":"XL","option3":null,"sku":"10001078","requires_shipping":true,"taxable":true,"featured_image":{"id":30428423291020,"product_id":7042105147532,"position":1,"created_at":"2022-07-18T09:13:58+01:00","updated_at":"2022-07-18T09:13:58+01:00","alt":null,"width":2151,"height":2865,"src":"\/\/www.farmandhomestore.ie\/cdn\/shop\/products\/DX472_image_2_grey.jpg?v=1658132038","variant_ids":[40646267371660,40646267568268,40646267666572,40646267797644,40646267928716]},"available":true,"name":"Portwest DX4 Zipped Hoodie - Grey \/ XL","public_title":"Grey \/ XL","options":["Grey","XL"],"price":5395,"weight":760,"compare_at_price":null,"inventory_management":"shopify","barcode":null,"featured_media":{"alt":null,"id":22762202136716,"position":1,"preview_image":{"aspect_ratio":0.751,"height":2865,"width":2151,"src":"\/\/www.farmandhomestore.ie\/cdn\/shop\/products\/DX472_image_2_grey.jpg?v=1658132038"}},"requires_selling_plan":false,"selling_plan_allocations":[],"quantity_rule":{"min":1,"max":null,"increment":1}},{"id":40646267863180,"title":"Blue \/ XL","option1":"Blue","option2":"XL","option3":null,"sku":"10001082","requires_shipping":true,"taxable":true,"featured_image":{"id":30428423749772,"product_id":7042105147532,"position":3,"created_at":"2022-07-18T09:14:15+01:00","updated_at":"2022-07-18T09:14:15+01:00","alt":null,"width":2227,"height":3025,"src":"\/\/www.farmandhomestore.ie\/cdn\/shop\/products\/DX4_blue_image_1__2.jpg?v=1658132055","variant_ids":[40646267469964,40646267601036,40646267732108,40646267863180,40646267994252]},"available":true,"name":"Portwest DX4 Zipped Hoodie - Blue \/ XL","public_title":"Blue \/ XL","options":["Blue","XL"],"price":5395,"weight":760,"compare_at_price":null,"inventory_management":"shopify","barcode":null,"featured_media":{"alt":null,"id":22762202595468,"position":3,"preview_image":{"aspect_ratio":0.736,"height":3025,"width":2227,"src":"\/\/www.farmandhomestore.ie\/cdn\/shop\/products\/DX4_blue_image_1__2.jpg?v=1658132055"}},"requires_selling_plan":false,"selling_plan_allocations":[],"quantity_rule":{"min":1,"max":null,"increment":1}},{"id":40646267928716,"title":"Grey \/ XXL","option1":"Grey","option2":"XXL","option3":null,"sku":"10001079","requires_shipping":true,"taxable":true,"featured_image":{"id":30428423291020,"product_id":7042105147532,"position":1,"created_at":"2022-07-18T09:13:58+01:00","updated_at":"2022-07-18T09:13:58+01:00","alt":null,"width":2151,"height":2865,"src":"\/\/www.farmandhomestore.ie\/cdn\/shop\/products\/DX472_image_2_grey.jpg?v=1658132038","variant_ids":[40646267371660,40646267568268,40646267666572,40646267797644,40646267928716]},"available":true,"name":"Portwest DX4 Zipped Hoodie - Grey \/ XXL","public_title":"Grey \/ XXL","options":["Grey","XXL"],"price":5395,"weight":760,"compare_at_price":null,"inventory_management":"shopify","barcode":null,"featured_media":{"alt":null,"id":22762202136716,"position":1,"preview_image":{"aspect_ratio":0.751,"height":2865,"width":2151,"src":"\/\/www.farmandhomestore.ie\/cdn\/shop\/products\/DX472_image_2_grey.jpg?v=1658132038"}},"requires_selling_plan":false,"selling_plan_allocations":[],"quantity_rule":{"min":1,"max":null,"increment":1}},{"id":40646267994252,"title":"Blue \/ XXL","option1":"Blue","option2":"XXL","option3":null,"sku":"10001081","requires_shipping":true,"taxable":true,"featured_image":{"id":30428423749772,"product_id":7042105147532,"position":3,"created_at":"2022-07-18T09:14:15+01:00","updated_at":"2022-07-18T09:14:15+01:00","alt":null,"width":2227,"height":3025,"src":"\/\/www.farmandhomestore.ie\/cdn\/shop\/products\/DX4_blue_image_1__2.jpg?v=1658132055","variant_ids":[40646267469964,40646267601036,40646267732108,40646267863180,40646267994252]},"available":true,"name":"Portwest DX4 Zipped Hoodie - Blue \/ XXL","public_title":"Blue \/ XXL","options":["Blue","XXL"],"price":5395,"weight":760,"compare_at_price":null,"inventory_management":"shopify","barcode":null,"featured_media":{"alt":null,"id":22762202595468,"position":3,"preview_image":{"aspect_ratio":0.736,"height":3025,"width":2227,"src":"\/\/www.farmandhomestore.ie\/cdn\/shop\/products\/DX4_blue_image_1__2.jpg?v=1658132055"}},"requires_selling_plan":false,"selling_plan_allocations":[],"quantity_rule":{"min":1,"max":null,"increment":1}}]

31 Farm & Home Stores
Find a Store

Nationwide Delivery
Terms & Conditions Apply

Click & Collect
For Free